Welcome to the Collie Cycle Club
The Collie Cycle Club has a very strong & rich vein of cycling history dating back more than 100 years. The history has been built around encouraging recreation in cycling and the club prides itself on the iconic Collie to Donnybrook and Return Cycling Classic and the Tom Lowry Memorial cycle race.
The club is home to past and current national champions and welcomes all categories of riders to join the club and participate.
Mission Statement
To develop and advance the sport of cycling at all levels in Collie and the surrounding South West, encouraging recreation in cycling, both competitive and non competitive by promoting positive attitudes and a healthy lifestyle through family and community involvement whilst maintaining a safe environment.
Upcoming Events    
2019 Collie Community Bank Collie to Donnybrook and Return Cycling Classic Saturday 17 August 2019  
  9.15am - Registration
10.00am - U/15's
11.00am - U/17's
12.00pm - Collie to Donnybrook and Return Cycling Classic. 
Starting in Collie outside the Crown Hotel, the Collie to Donnybrook and Return Cycling Classic is one of Australia's road cycling classics with the handicap format giving everyone a chance to win.
For accommodation visit www.collierivervalley.org.au

Contact: Jamie Moloney Secretary/Treasurer
Mobile: 0428 677 595
Email: This e-mail address is being protected from spambots. You need JavaScript enabled to view it

Website: www.colliecycleclub.org.au
Facebook: Collie Cycle Club, Western Australia
Hi
There will be a time trial ride on the McAlinden road tonight 22nd October 2012,
6pm start.  8km or 16km on the road, self timed.  It'll be the first for
this summer, and run through every monday night till we start running
out of light in March.

For those that don't know, this is a long running Monday Night tradition
over Summer in Collie.  Starts on the Collie-McAlinden road, about 1km
up from the turn off from Preston Road. 
If you're not sure, just email This e-mail address is being protected from spambots. You need JavaScript enabled to view it  or call the crew at Crankin
Cycles shop.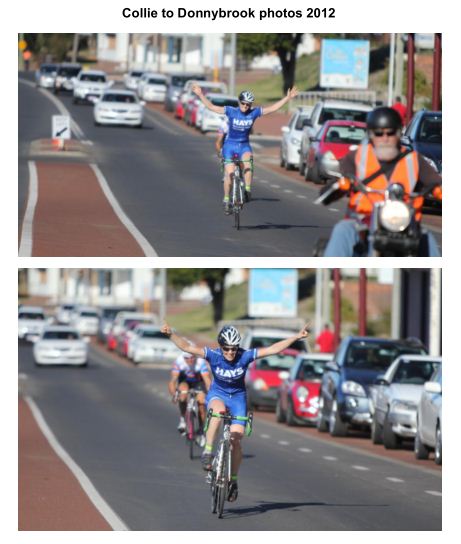 Good luck to the contingent of Collie Cycle Club riders in the open
 event this Saturday. With the much anticipated Collie to Donnybrook
handicap event its exciting to see the majority of Collie riders
starting together off the 14 minute mark. Lets all hope the group work
well together and hang on for as long they can over the 102km journey.
Watch closely for the Collie riders who will be wearing the new Collie
uniforms.
The club hope to see as many supporters as possible after the event  
at the celebrations. See you all there and good luck to our local riders.